Tea has been around for thousands of years. It was initially used as medicine in Ancient China where you'd crush the dried leaves into a fine powder and dissolve them in water. We still use this method today with teas like Matcha and Houjicha powder. Given how long tea has been around, there are countless ways to prepare it and, in truth, there's no single right way. There are some basics that inform how you should brew your tea though. When trying to determine the right way to brew your tea, there are a couple really importatnt things that you should pay attention to.
The tea's level of oxidation

How the tea was processed

How you intend to serve your tea
We go into this a little below, but it's important to note that much of this section is about how to brew tea in the western tradition - using a relatively small amount of tea and steeping it for a longer period of time. In eastern ceremonies like gong-fu, you would use relatively more tea and steep with hotter water, for a shorter period of time. Then re-steep the tea again and again until it is spent.
You can skip ahead to whatever section covers your needs. Our steeping chart lists temperatures and times for common teas, and we've written a little guide on the formal tea cupping process below as well.
How Oxidation Effects Brew Temperature
To get 85% of the way there when it comes to brewing teas, the most important thing to pay attention to is the level of oxidation of your tea. White and Green Teas are unoxidized, Oolongs are semi-oxidized, and Black Teas are fully oxidized. In general, the less oxidized your tea, the cooler your water needs to be.
For green teas, you don't want to burn the leaves. A big reason for why people don't like green teas is because they use boiling water to brew it. You should aim for 175 F (80 C) when making green tea. This will reduce bitterness often attributed to green teas.
On the other end of the spectrum lies black teas. These teas have been fully oxidized and are able to withstand higher temperature water. You should aim for 205 F - 212 F (95 C - 100 C) when brewing black tea. This will lead to the strong cup most people look for when drinking black tea.
How Tea Processing Effects Brew Temperature
An additional step you can take to ensure that you're brewing your tea as best as you can is to look at what your tea went through in it's processing. While the making of tea is remarkably complex, there are a few things to look out for that will leave you with a better brew.
In the green tea making process, it is necessary to halt oxidation by applying heat to the leaves. There are two primary ways to do this - pan-firing and steaming. When tea-makers pan-fire leaves, they literally toss the tea leaves in a really hot pan. This kills off the enzymes responsible for oxidation. Steaming is another option. Tea-makers will apply indirect heat using steam and let that kill off the enzymes. Steamed green teas tend to be more delicate - and often greener. While there are thousands of tea-makers out there, green teas from China are usually pan-fired and green teas from Japan are usually steamed.
With steamed green teas, you're going to want to bring the temperature and time down a lot. You want to aim for 160 F (70 C) water and only about a 1 minute steep time. Pan fired greens can go a full 3 minutes, but at 185 F (85 C). Some Japanese teas are even better when you brew them cooler. Some of the best Gyokuros in the world should be brewed at 100 F (40 C). Crazy, right?
How Your Serving Method Changes Brew Method
Something else to consider when brewing your tea is how you're going to serve it. Serving tea is an act of love, so you never want to give someone bad tea. Unless maybe they deserve it.
For example, if you are planning to make iced tea - meaning brewing hot tea and pouring it over ice - you want to keep in mind that the tea will be diluted by the ice. So you should probably brew the tea stronger than you would if you were going to drink it hot. This usually means using more tea for the amount of water you plan to use.
If you're planning to have an English-style tea room experience, maybe serving gong-fu chá isn't going to fit with the theme. Building the experience around the tea you serve is just as important as the tea that goes in the pot.
| | | | | |
| --- | --- | --- | --- | --- |
| | Tea Type | Temp | Time | Recipe |
| | | | | |
| | | | | |
| | | | | |
| | | | | |
| | | | | |
| | | | | |
| | | | | |
The formal process of cupping tea is used in tasting rooms globally. The idea behind how they are structured are to allow tasters to have a consistent set of rules on which to brew, taste, and rate tea. This process is important to ensure the quality of tea sold by suppliers, and in particular, important when determining which lots of tea from a single garden you are going to buy. The standardized cupping is in no way a guide to brewing tea for consumption, but is meant to give an even playing field on which to taste tea. We detail that process here:
The vessel to use should be a white porcelain or glazed earthenware pot. They can be one of two sizes - 310ml or 150ml. ISO 3103 specifies that they should weigh 200g or 118g, respectively. The water you use should be drinking water of the same quality as the water with which the tea will be consumed when sold.
Measure 2 grams of tea per 100ml of water to be used. In the standard cupping set of 150ml, this would be 3g of tea leaves.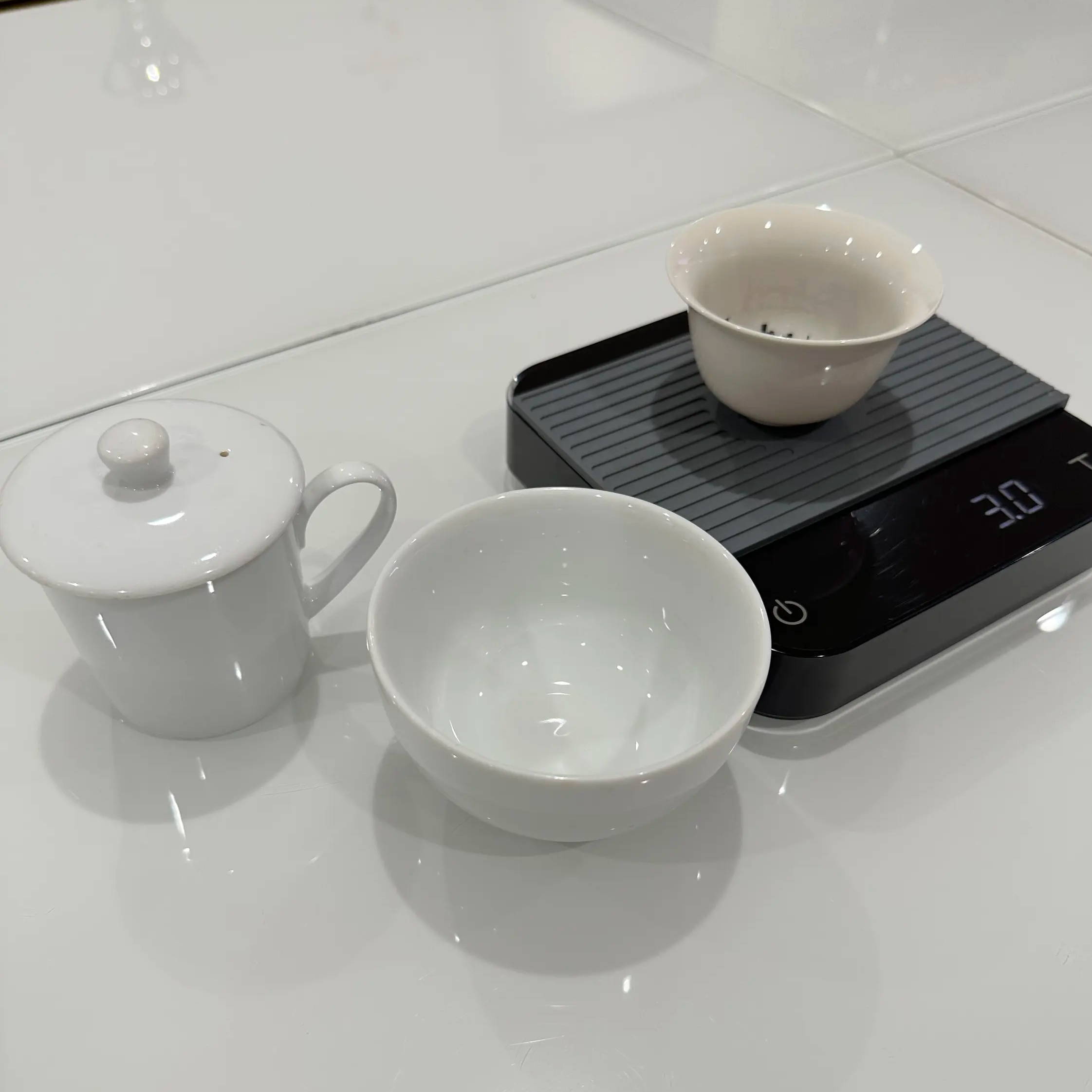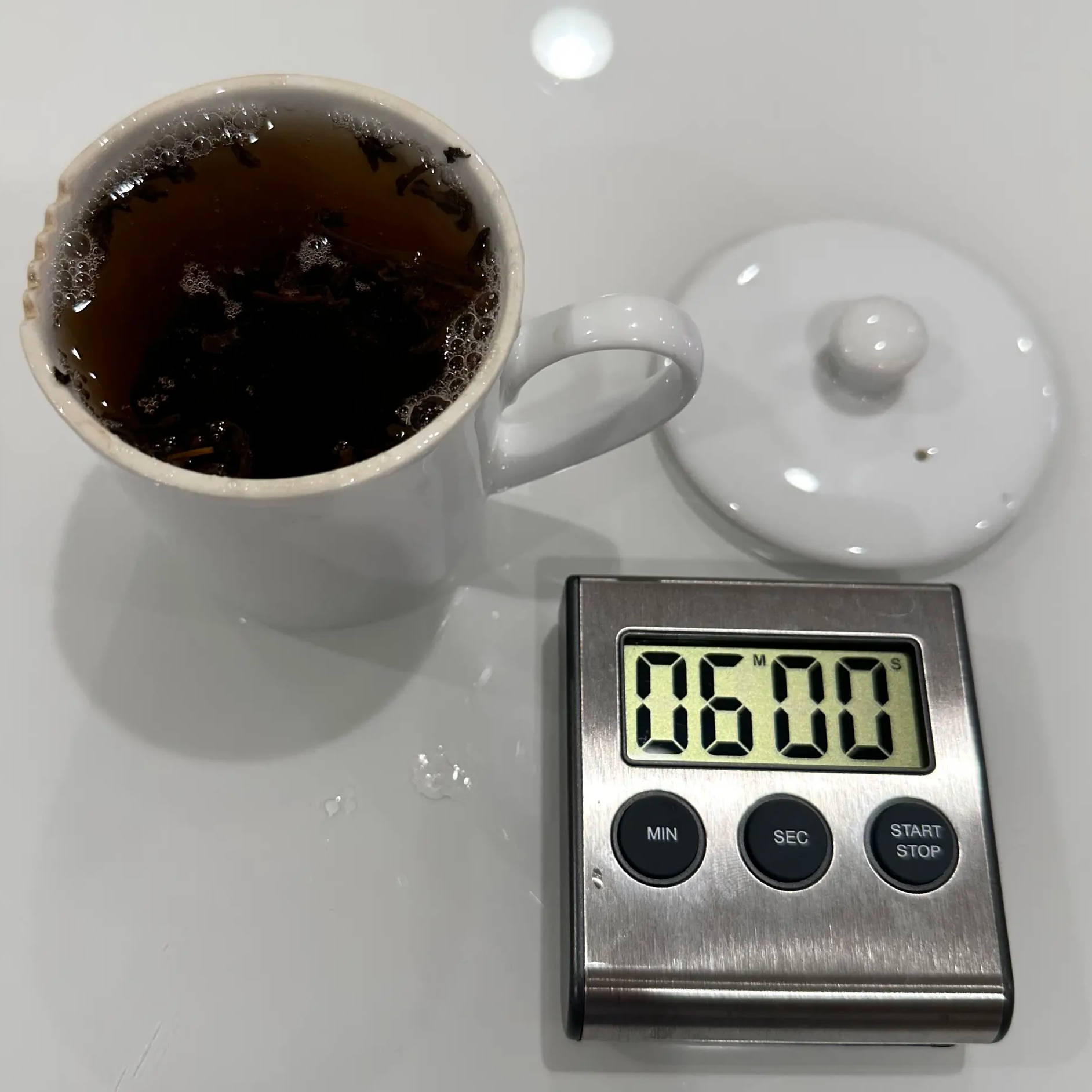 Pour boiling water into the pot and brew for 6 minutes
This is a really long time to brew most teas. This step in particular highlights that a cupping like this is not meant to make an enjoyable cup of tea.
Pour the brewed tea into a white porcelain or earthenware bowl, filtering the leaves out as you pour.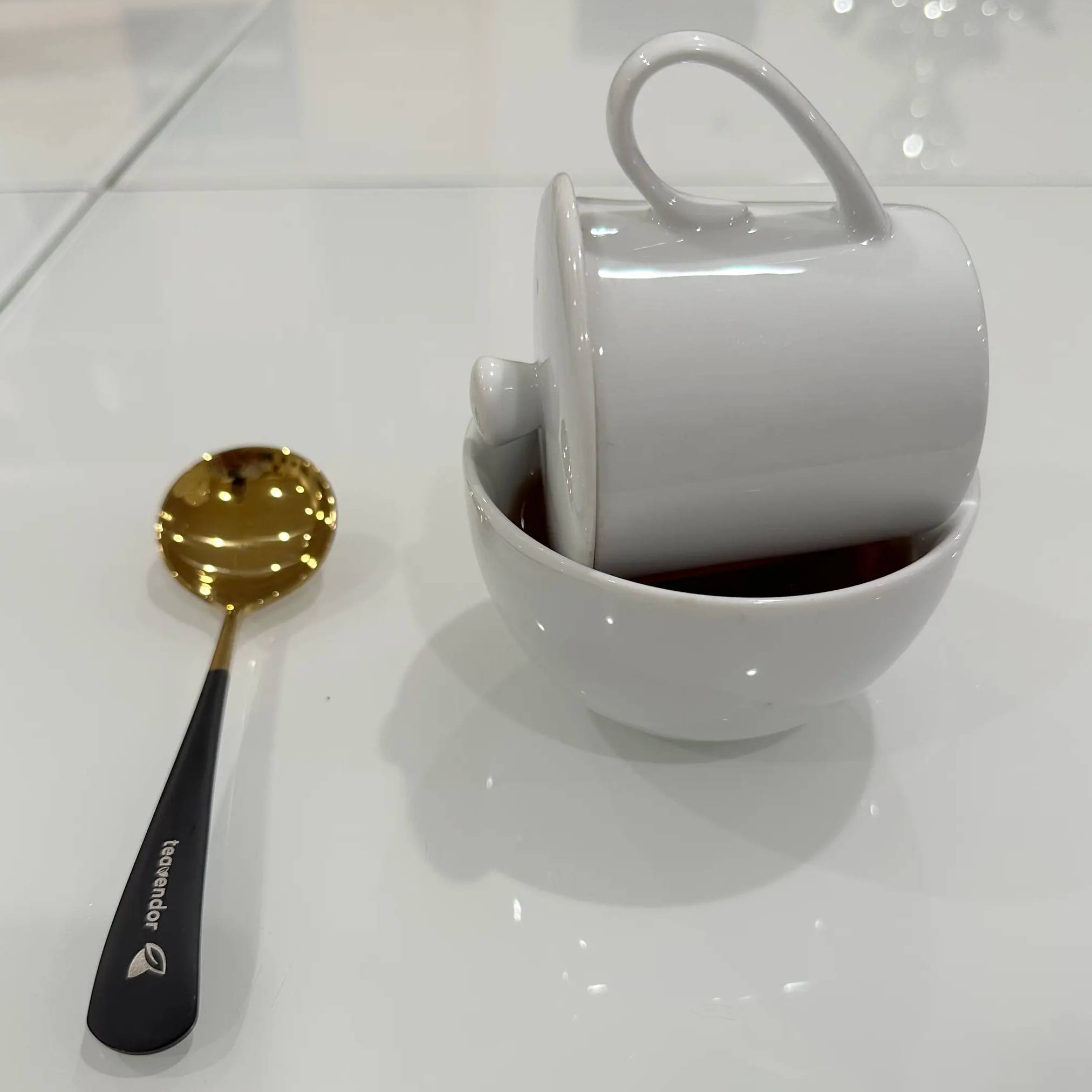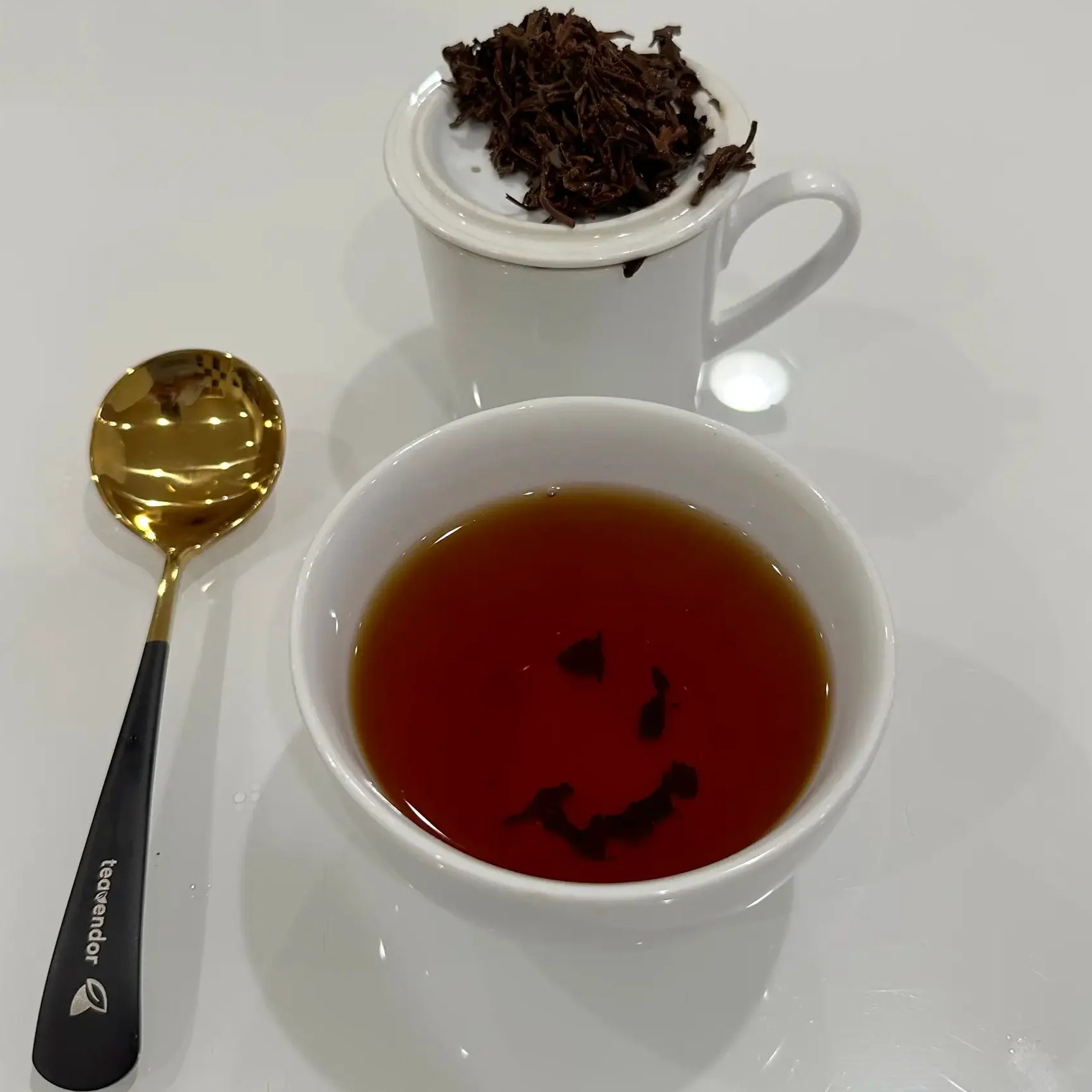 Your tea is ready to taste. Take a spoonful - a separate bowl to spoon the tea into could be useful if you're sharing, to avoid cross contamination - and quickly slurp the tea into your mouth to aerate it. Slurping tea is a long tradition in cupping rooms around the world.