To kick start our TeaVendor YouTube launch we are starting off with a real BOO, it's Halloween season!
Clearly we are passionate about tea here at TeaVendor. We strive to provide our customers with the best selections the world of tea and herbs have to offer. One of our new goals is to expand on the ways our customers utilize tea for their business. With the launch of our new TeaVendor YouTube channel, our goal is to revitalize tea in new and exciting ways. We want to share with the world that tea can be used not just in the traditional sense, but for cocktails, baked goods, and even skin care products!
As a team we spent a good amount of time brainstorming how we wanted to present this information to the world. We feel passionate about making the world of tea a space where people of all ages and tea knowledge, whether that be little to none or a tea connoisseur, can feel inspired to branch out and use tea in a different way. We want to welcome in and encourage people and businesses of all backgrounds to be as passionate about tea as we are. With our YouTube channel we believe we have found the sweet spot, a place where all can gather and learn.
To kick start our TeaVendor YouTube launch we are starting off with a real BOO, it's Halloween season! Today's recipe is one that is perfect for kids and adults alike, whether for an afternoon tea or for a fun menu dessert offering. Incorporating Matcha, candy, and cookies our Halloween Matcha Mud Cups are sure to be a frightful treat this Halloween season!
Halloween Matcha Mud Cups recipe
Ingredients:
8 oz (1 package) cream cheese, room temperature

3 tbsp heavy cream

1 tsp vanilla extract

1 cup powdered sugar, sifted

10 oreo cookies

4 oval shaped cookies, we used Milano cookies

Gummy worms or other gummy bugs, for garnish

Black icing, for writing
Directions:
In a medium sized ziploc bag, add in the oreo cookies and seal tightly. Using a rolling pin, crush the oreos until crumbs form. You can also use a food processor for this step.

In a bowl, beat the cream cheese until smooth.

Sift the Culinary Grade Matcha and powdered sugar directly into the cream cheese. Add in the heavy cream and beat until smooth.

In a small mason glass or other glass container, layer the Matcha cream cheese mixture and oreo crumbles.

Garnish the top with the cookie headstones and gummy worms.

Serve chilled and enjoy!
Indulge in the taste of Japan with our high-quality Culinary Grade Matcha.
Not only is it packed full of antioxidants, but it's also versatile enough to use in a variety of recipes. From lattes to desserts, this matcha will take your creations to new heights. Create amazing recipes with traditional Japanese flavor.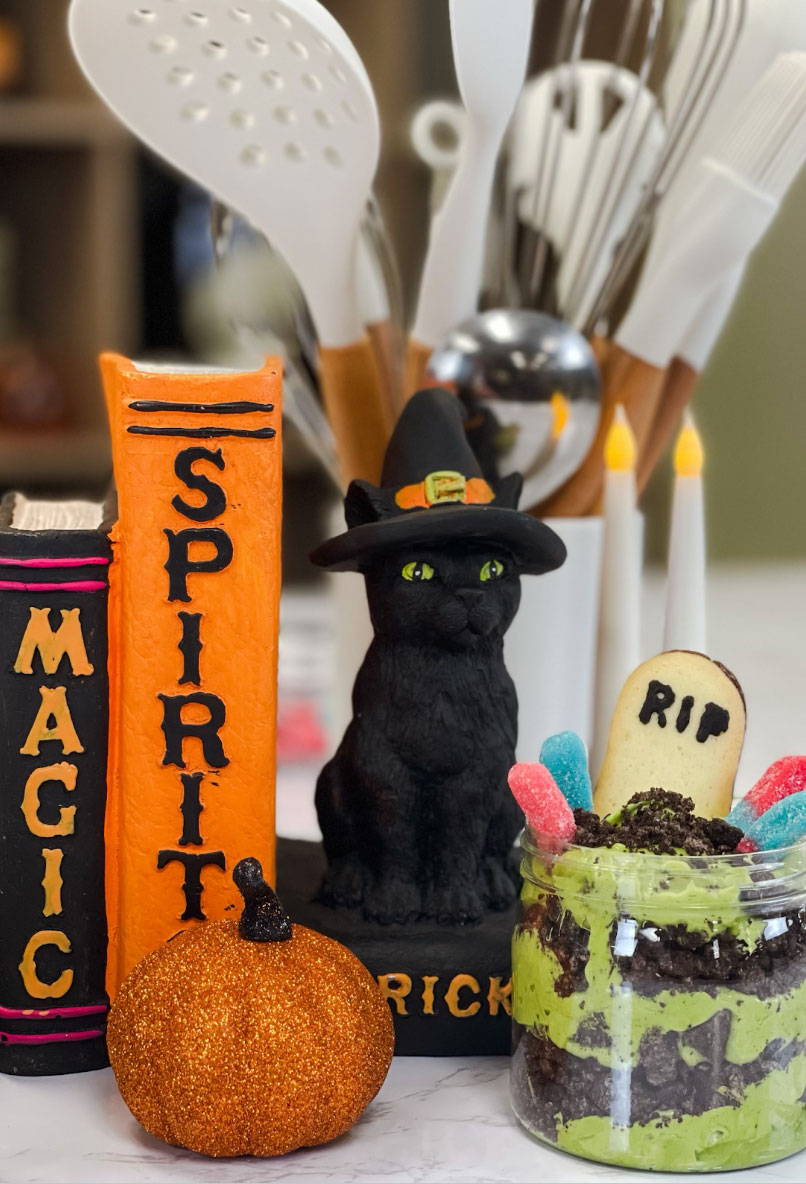 Looking for more fun recipes like this?
In the next few weeks we will be sharing more fun and exciting Halloween inspired recipes like this one here on our blog and on YouTube! If you are interested in today's Japanese Culinary Grade Matcha highlight, it can be found on our website.